The time has come again to celebrate Halloween!  It's our favorite time of year.  A chance to scare our students and have fun with them.  We have two parties.  One for the little kids that isn't scary but fun.  The other is scary and fun.  Come in costume and enjoy the celebration!  Try not to get too scared.
サマースクール
もうすぐ子ども達が待ちに待った夏休みがやってきます。
お母さんには、ちょっと大変な夏休み!?ですが、
クローバーでは、夏のイベントとして
7月29日(火)~8月1日(金)まで、SUMMER EXPLORER WEEKを実施します。
いつものレッスンとは違い、いろいろな体験・実験・クラフト・クッキングなどで
暑い夏を吹き飛ばしましょう。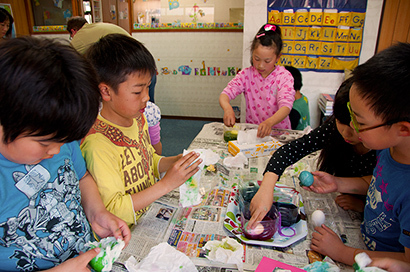 We just finished our Easter parties for the year!  Easter has always been one of the most unknown celebrations.
The students always have a great time painting and decorating their eggs. They also love the egg hunt that we have in the park. This year, for the first time, the students  were good hunters and did not lose a single egg.
We did have some troubles, a few broken eggs and a dye spill. The broken eggs were not much of a problem.  We had plenty of extra eggs for the students. As for the pill, quickly cleaned and all was well.
This year's top egg hunter was Mizuki. With a total of six eggs found all by himself. So a big Happy Easter to him.
The Easter party is a great way not only for us to get to know our new students but also for the new students to mix with the older students.
What do you think?